Looking for some nail designs to add to your summer nails 2022 list? Well so am I! And on my search for amazing nails for this season of sun, I've made a whole list for you as well!
I'm calling it right now. This summer is all about fun nail stickers, insanely eye-catching colors, and simple designs that can be dressed up or down.
I predict that the biggest trend for summer nails 2022 designs are going to be versatility. Just like how your summer plans can change in an instant, you want nail designs that can pair with any outfit, occasion, or situation.
Whether at a nail salon or at home, here are the best summer nails you can try this year. Heads up though, you'll definitely want to try all of them because I know I do.
AFFILIATE DISCLOSURE
This article will have affiliate links. This article contains affiliate links, which means I will make a small commission after your purchase. If it makes you uncomfortable, please do it your way. I don't own the rights to the images, some of them are inspired by Pinterest, while the others are from my Etsy Affiliate products, where I am legally allowed to use the photos.
Fun Nail Tips Designs
French tips with a twist? French tipped nails are the most classic manicure. They make you look elegant and polished.
The classic french tip always makes me feel like Audrey Hepburn in the iconic film, Breakfast at Tiffany's. You know the feeling! It oozes class and is sexy as hell.
But what if you want to kick this classic manicure style up a notch?
Here are some fun nail tip designs that will have you feeling classy but with a twist.
Chevron nail designs can be incredibly flattering and give your nail an elongated look. This paired with a nail shape for chubby fingers like an almond shape or stiletto, really creates a very long delicate looking set of hands.
If this is something you're looking for and you've been blessed with stubby fingers like me, this is the perfect style for you to try. I feel that it's best to go with complementary colors for this design like this trio of vegan nail polishes here.
But of course, the world is your oyster and you can honestly go crazy with colors from opposite ends of the color wheel if you want a bolder look!
If you do happen to use the trio in the link above, I recommend using a sponge with the confetti polish to make sure it's opaque. I also recommend using nail tape to make sure your chevron design is crisp and clean.
Wondering how you can incorporate a burst of color into your nails to mimic the summer vibes? Then a french nail with a pop of color should be your go-to design this year.
Imagine, being on the beach, waves in the background, a drink in hand, and in the corner of your eye you spot a hint of bright orange on your perfectly manicured hands. Doesn't it all sound like the perfect picturesque summer?
And this nail design is incredibly easy to do! All you need to do is recreate the basic french tip style but instead of a white tip, you opt for your favorite summer shade.
I especially love this color neon pink for this nail design because it's bright enough to catch your eye but still looks refreshing and summery.
This design throws out everything you know about a french tip and takes a more interesting approach.
This nail design is perfect for anyone who has short nails as well! Which is one of the reasons I love this style so much. What's even better about this design? The sky's the limit on the kinds of colors you can choose for the tip!
You can go for some timeless darker nudes for a more mature look or choose brighter mints and teals for a younger impression. I personally can never choose just one color for this design so I like to go with two!

What do I mean by this? Well, this color-changing polish has made it easy for the rest of the indecisive queens like myself to have two colors in one bottle! There's also a gel color-changing polish here if you've got a nail lamp at home.
And other than being a perfect way to add some spice to an otherwise minimalist design, it can be incredibly fun if you plan to spend your summer around cool water since these polishes tend to change when in contact with different temperatures!
Two-Tone Nail Designs
Just like our color-changing nail polish, why use one color when you can use two? Except instead of another magical bottle of lacquer I mean two-tone nails!
Two-tone nails are a great way to make an exciting manicure without creating too intricate of a design. The simple use of two colors often gives the impression that the nail design is a lot more complicated than it actually is.
So here are some designs that make full use of this innovative style.
Are you a beginner manicurist? Then this design may be the perfect addition to your summer nails 2022 designs. Why? Because it's incredibly easy to recreate and looks even better than you can imagine.
I especially love this nail design because of how clean and simple it is. Although I do love my intricate nail art, I also really like design styles like this that are very simple but are far from boring.
All it takes is a line of complementary green to complete this two-toned fresh green mani.
And this shade of green is just perfect for summer. It's not an ordinary green by any means. It's eye-catching but not as bright as some of the other summer nail shades out there for my girlies who like something a little bit more muted this sunny season.
You can find the color on Etsy!
You can even wear this color on its own with a few adorable rings to match and it will be sure to complement any outfits you pull this summer.
Again another beginner-friendly nail design that you'll have to try out this year. This design is incredibly easy and all it takes are a few strokes of your brush!

This nail shape is slightly different from the others featured on this list. Rather than a usual almond nail shape (where the tips are a little wider) this nail shape is a cross between an almond, a stiletto, and an oval!
And guess what? It's my favorite nail shape for short fat fingers. (also, forgive me for the title, but this is what you girls are searching for, so here is a simple reminder: Please love the way you look, you are perfect the way you are!)
Whenever I use this shape I always feel like an elegant dancer whose fingertips match the movement of her feet. When I have this nail shape on I never stop waving my hands around cause I absolutely love how elegant and long it makes my fingers look.
Definitely, a must-try nail shape for chubby fingers.
And I think this set of polishes is perfect for this design. I absolutely love how the pale orange complements the pale blue and if you're feeling a little adventurous you can even add the shade of white included in the set into your design.
Now I'm considering this a two-tone summer nail design because although the gold does steal the show it's essentially just a color block of two complementary colors with a line of gold separating them.
Ever wonder how people seem to get the cleanest lines in their nail design? Well, I've got the secret for you. It actually nails stickers! Nail sticker designer sheets are available at almost any cosmetic store that carries your favorite polishes. But many of us often overlook them.
But they're really easy to use and a fuss-free way to get gorgeous nail designs with minimal effort. I especially love these stickers cause they're so simple – literally just a gold line – but they really make this nail design pop.
Here are some tips if you'd like to use nail stickers. Make sure you topcoat it! Yes grab your favorite glossy topcoat and cover that baby up to make sure your stickers don't go flying off and sticking to places it really shouldn't be in(don't worry we've all been there).
A gel option for these nail stickers would be some gold spider gel or liner gel! I promise it will make doing lines in your manicures a breeze.
This nude would be perfect for this nail design especially when paired with a nude that has more of a pink tone. This color combo would complement the gold in this design extremely well.
Summer Floral Nail Designs
No summer nails 2022 list could be complete without some floral nails. And luckily I've got a couple of show-stopping ones just for you. Don't forget to check out my other article all about floral spring nails! You may even find some designs for the summer there as well!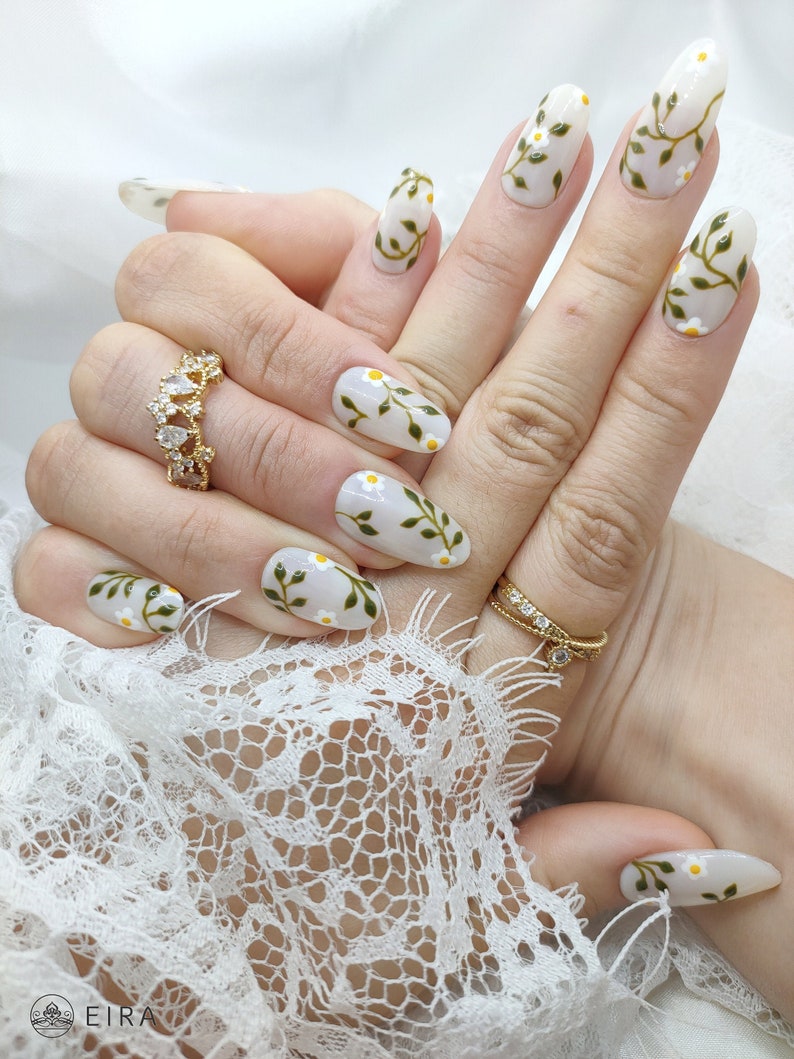 Now, this design is everything you'd want for your nails this sunny season. It matches the floral summery vibes and is just intricate enough to have your nails looking fancy and fresh.
If you can't paint these on yourself no worries! You can always get away with using nail sticker designer sheets with gorgeous flowers and vines for you.
I absolutely love this nail shape. There's actually a secret meaning to this nail. The nail shape meaning for these nails is that you'll never snag them on anything!
Ever broken a nail because it got caught on something? If you have, then on your next manicure you may want to go for a rounded shape. The rounded shape means there aren't any sharp edges for your nails to get caught in which almost means that your summer nails could probably last longer without any breakage!
Now if your arsenal of polishes don't already have a white, or a white that is this good I highly recommend this color! It's an opaque white creme polish that applies like a dream!
I named this design the floral show stopper nails because honestly can you imagine walking around with these babies and not having them catch the eye of people who go by?
These nails are for those of us who love nails and love showing them off even more. No shame in that, I'm one too! After all, if I'm going to work hard on my nails I might as well show them off a little.
These nails can be achieved with his bright polish and again with nail stickers! I recommend this vegan nail polish on Etsy because I feel like this shade of pastel orange would be complementary to a range of different skin tones.
And as you can see this nail design adds a little glitter to tie the look together. In my opinion, I think it would be best to use glitter of the same shade for this nail design to avoid it looking like you have too much going on.
However, if you can find a glitter that's complementary to the base color then my advice would be to go for it!
Unfortunately, this may not be the best nail shape for short fat fingers because the sharp edges might emphasize the shortness of your finger. But if you enjoy this kind of shape don't let that stop you!
If you've read my spring article you'll know how much I absolutely loved daisies for this year's spring nails. But what if It told you your favorite daisy designs don't only have to be for the springtime?
These nails are absolutely gorgeous and it makes good use of the most summery color of all, a pale golden yellow! I love how this specific design just screams summer and can be done relatively easily.
For the flowers you can use a dotting tool or a toothpick to create some petals in white polish, then add a yellow center, and voila! A perfect set of daisy nails that perfectly symbolizes the sunny season.
And don't worry I've got you covered. This yellow polish on Etsy is perfect for this design and is basically the sun but bottled up and ready to use!
Colour Block Nail Designs
I don't know how else to describe these Summer nails 2022 designs except to describe them as the color block styles of your dreams. They're bold colors, bold combinations and no two colors are ever on the same nail.
Although these designs scream confidence, they can also be muted down to be more wearable but you can trust me when I say that they're just as fierce.
So you ready to get your 80s color block groove on?
Funky Color Block Nails
My favorite thing about this design is that anyone could recreate it, anyone could pull it off and it's loud. Just as loud as your summer should be.
Especially with the kind of summers we've had in 2021 when the pandemic was still in its early stages, this year the nail designs should reflect our new appreciation of life and be as lively as we are.
Now, I may be a little biased but I swear this set was made for this nail design. The colors are bold but wearable and could actually be worn for any time of the year, not just the summer!
Monochrome color block nails
Now if you're not a fan of the bold colored looks maybe you can try this monochrome nail design. Again this is a summer nail 2022 design that anyone could pull off!
It may not be as loud as the previous design on this list but it certainly isn't boring.
By using monochrome colors you can achieve a similar fierceness to funky color combos but with more wearability.
You can find a whole bunch of gorgeous colors here that can make creating this look as easy as counting from 1 to 10.
That being said you can turn this look up a notch with a monochrome of bright mints or teals instead!
Here's a cheeky little tip from me, if you're using gel polish to achieve this look and don't have all the right colors, just mix up your highlight color (the darkest color of the monochrome) with some white!
You can keep adding more or less white to achieve whatever shade you'd like to use for your monochrome spectrum.
Complementary Soft Colourblock
I'm sure most of you can already tell that I love pastels especially for the summer. Just count the number of times I've said pastel and bright in this article alone!
When creating this summer nails 2022 designs list I kept wondering how I incorporate a nail design that was full of pastel colors, this color specifically, and finally I found it.
I don't think I could do this list justice if I didn't at least include one design that was dedicated to the soft tones of summer. And this design is very versatile.
Honestly, could you ever go wrong with pastel in Summer?
Negative Space Colorblock
You know those nail designs where designs are painted on bare looking nails? Well that style of nail is actually known as negative space nails and they've swept across the trends in 2022.
So it really isn't surprising that they're making an appearance (actually several if you count the other nail designs on this list) in this summer nails 2022 list.
Negative space nails are a great way to create abstract designs with unlikely combos of colors. And they'll never clash since the negative space keeps them cohesive. So negative space color block nails are actually a match made in heaven.
This nail style is perfect for anyone hoping to have a lot of fun with their nail designs this summer.
And you can choose a whole range of colors that you might not usually pair! You can go with mints like the polish in this link and pair it with a pink polish from this link.
Or you can stay in relatively the same color family with these shades of turquoise, blue and pastel blue! Either way the whole point of this design is to have fun!
Conclusion
You've heard me say it a bunch of times already but I don't care I'm going to repeat it, the summer is all about fun. That's the whole point of summer nails 2022. Whether you're chilling at the beach, sharing some drinks with friends, your nails should match your sunny vibe this year.
Your nails are a reflection of who you are and often are the first things people see when they meet you. So express yourself the best way you know how with these gorgeous summer nail designs.
If you do happen to try any of these nails out don't hesitate to tag me! I honestly would love to see any of the designs you recreate and see how my tips might have helped you along the way!
From one nail art lover to the next, enjoy the summer polished to perfection.
If you aren't ready for summer nails 2022 just yet, check out my spring blog post!
Don't forget to follow me on Pinterest, TikTok and Instagram if you want to see more of what I create!